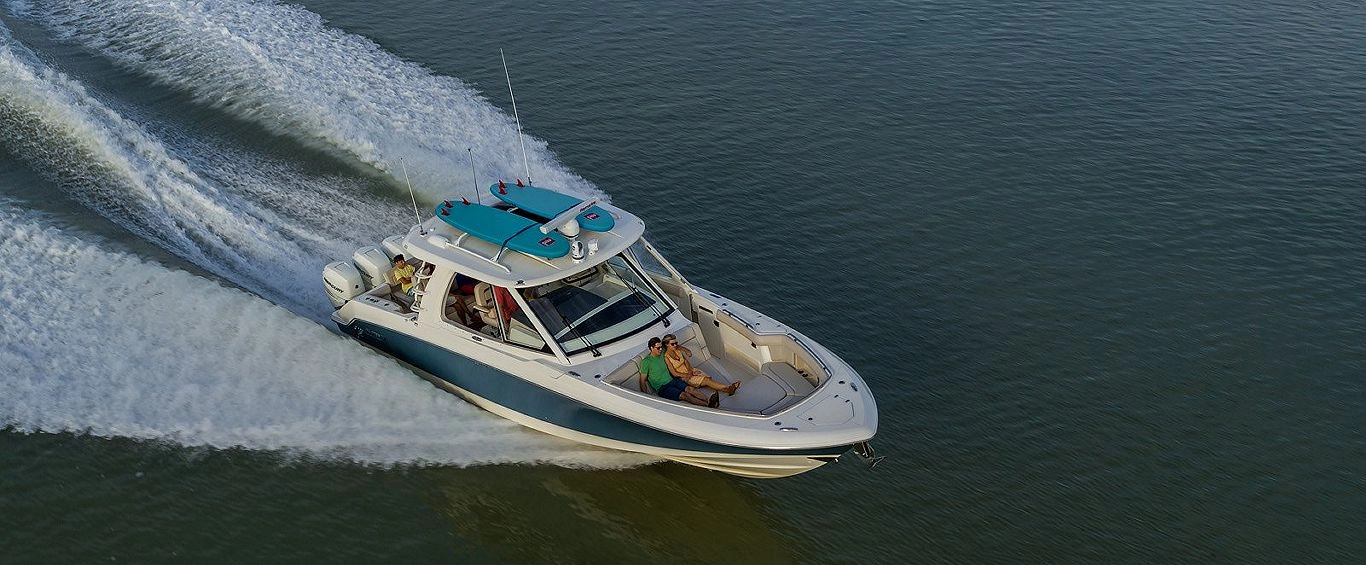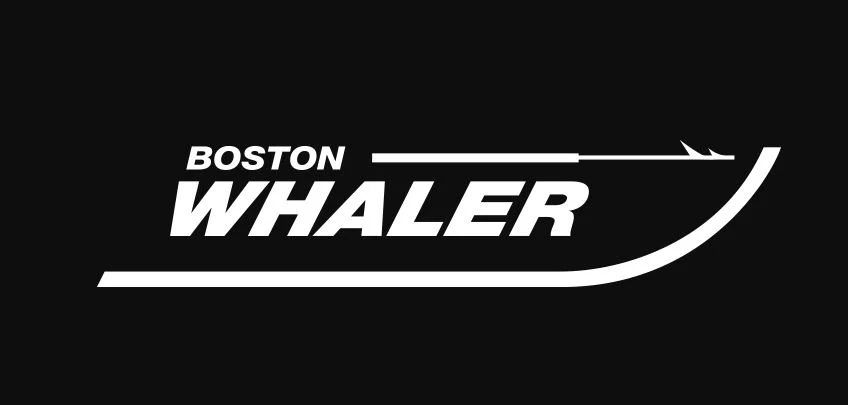 The Specs
Dimensions – 38' (11.89 m)
L.O.A. – 11' 8" (3.56 m)
Beam – 29" (0.74 m)
Draft – 29" (0.73 m)
Transom Height –
Weight – 17,000 lbs (7711 kg)
Weight (dry, no engine) – 23,500 lbs (10,659.4 kg)
Weight (quad engines, full fluids) Capacity – 6,490 lbs (2,944 kg)
Maximum Engine Weight – 2,800 lbs (1,270.1 kg)
Maximum Weight Capacity – 3,500 lbs (1,587.6 kg)
Swamp Capacity – 16
Maximum Persons Capacity –
Fuel Capacity – 445 gallons (1,684.5 L)
Engines Maximum Horsepower – 1600 HP (1176.6 kW)
Minimum Horsepower – 1200 HP (882.5 kW)
Maximum Engine Weight – 2,800 lbs (1,270.1 kg)
Let the adventures begin: Introducing the newest member of Boston Whaler's exciting Realm family, the versatile 380 Realm. Combining incredible capability and performance with outstanding comfort, the Boston Whaler 380 Realm is designed to make any on-water dream possible. Amenities for entertaining include a robust cockpit prep center; a massive, refrigerated under-seat cooler; a social open bow and more. The boat's spacious center-console layout and brilliant new windshield design provide unobstructed views, while a large integrated hardtop provides tons of shade and protection from the elements – all the way to the horizon and beyond.
Yes, I Want This Boston Whaler!
Call Now at 402-359-5926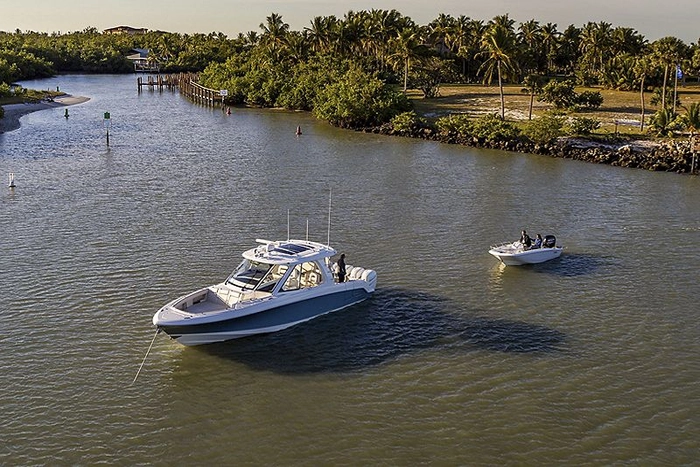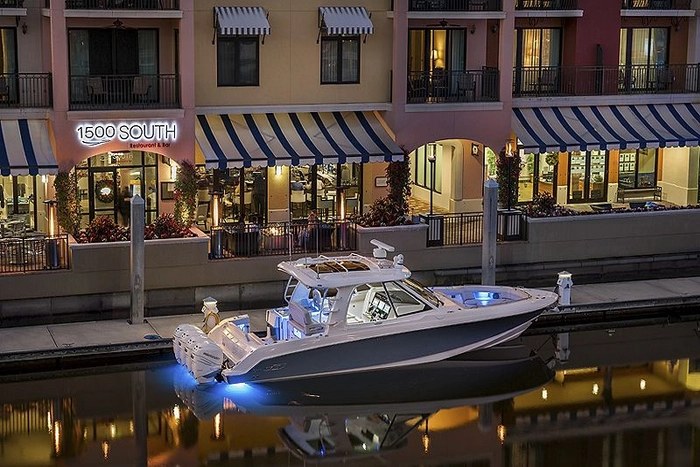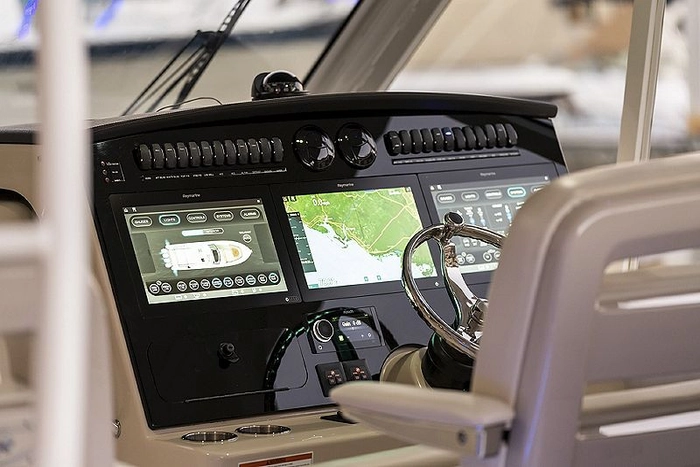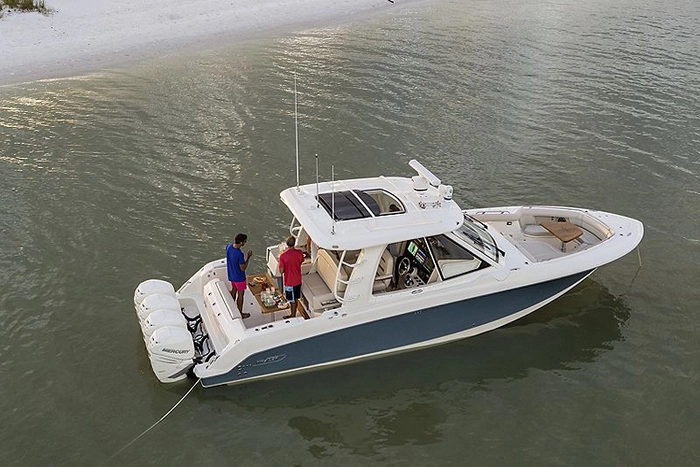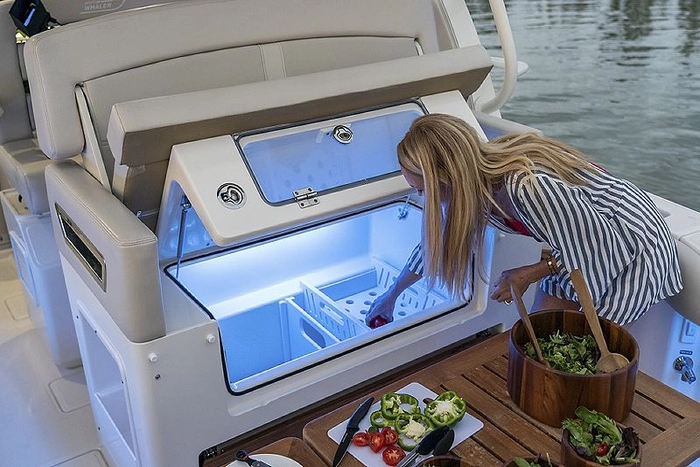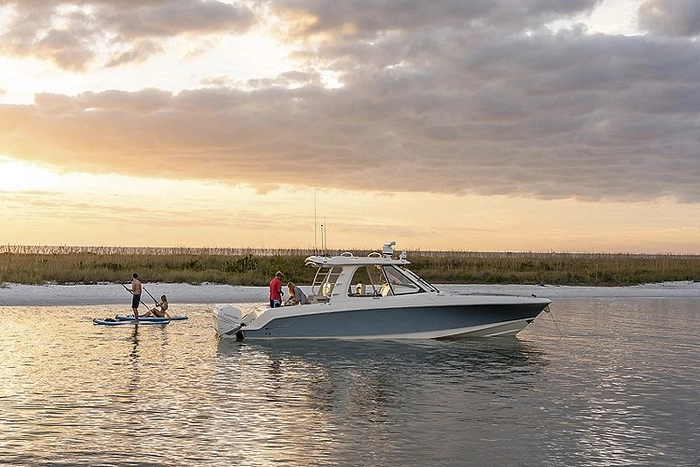 REALM – LEGENDARY CRAFTSMANSHIP

CAPABLE & CONFIDENT

Meet the boat that calls to mind cherished memories and empowers exciting new ones: the brilliant 350 Realm. The 350 Realm express model combines impressive capability with purposeful features and unsurpassed comfort. For entertaining friends and family, discovering far-flung islands, chasing deep-sea fish, or spending long days at anchor, the 350 is perfectly suited for any adventure. Cutting-edge design ensures mastery of the water, so you can let imagination be your guide.

FEATURES

Triple 300 or 400-hp Mercury engines offer incredible power and precision
400-gallon fuel tank provides imppressive range
Robust forward console lounge includes fold-down armrests and drink holders, with forward island deck seating opposite.
Portside dive/boarding door with removable stainless-steel ladder allows for easier water interaction.
Entertaining -friendly Cockpit Center features a refrigerator, hot & cold freshwater sink, electric grill and more.
Inviting cabin includes convertible V-berth/seating area and well-equipped head for comfort on long days and overnights.
Available with WHALER WATCH featuring Mercury's Theft Deterrent System (TDS), a telematics tracking system with GeoFence Immobilization, and remote boat monitoring.
Available Joystick Piloting system for worry free docking, and Skyhook autopilot functionality for effortless station-keeping.
Fishing features include pressurized 15-gallon aft livewell, 2 insulated in-floor fishboxes and available outriggers.

Yes, you can cut a Boston Whaler in two and drive away in the half with the engine. But unsinkability means more than just the unmatched safety of Unibond™ hull construction. It means smart design, high-quality construction and forward-thinking technology. It means premium experiences and comfort year in and year out, whether you're fishing, cruising or both. It means having the Core Confidence to take on anything from the shallows to the roughest offshore water without worrying about a thing.

A lot goes into creating the Unsinkable Legend. From conceptualization to materials gathering to the hands-on build process, our team of designers, engineers and craftsmen use tremendous skill, innovative thinking, diligence and passion to guide their work. Get an inside look into how each beloved Whaler comes to life.

We're committed to creating boats that are purposefully engineered to be safe, functional and low-maintenance, while they deliver a lifetime of carefree pleasure.

Boston Whaler uses a detailed portfolio planning process to ensure we are developing the highest quality products for our customers. Our strict process creates a roadmap of goals and delivery dates, ensuring every new product is delivered on time and lives up to the Boston Whaler name.

Our robust quality control process starts the minute raw materials arrive to the factory, and continues until your Whaler is delivered. QC systems help manufacturing experts inspect each boat to ensure the final product is worthy of the trusted Boston Whaler name.