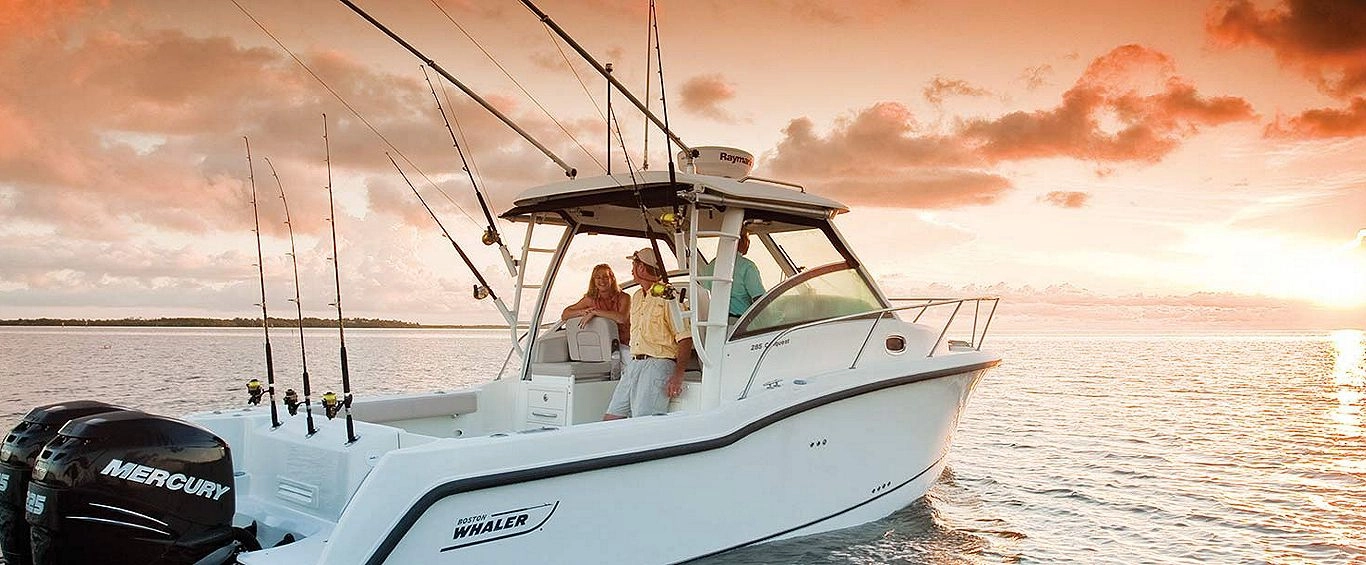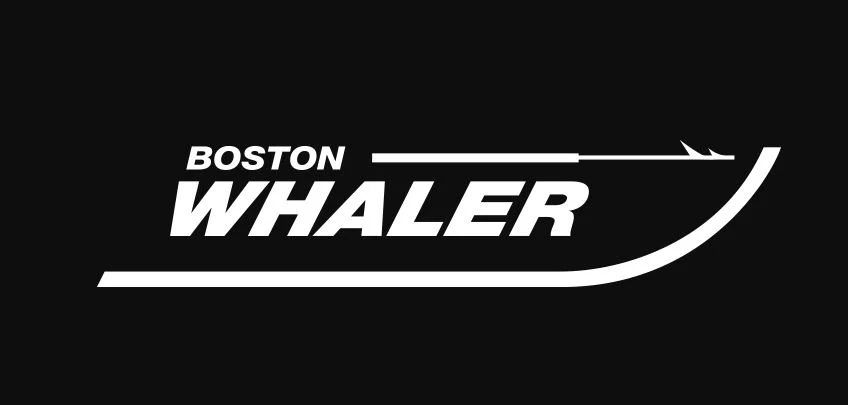 The Specs
Dimensions – 27' 10" (8.51 m)
L.O.A. – 9' 6" (2.90 m)
Beam – 20" (0.50 m)
Draft (hull only) – 25" (0.63 m)
Transom Height
Weight – 7,300 lbs (3,311 kg)
Weight (dry, no engine) – 10,181 lbs (4,618 kg)
Weight (with engine, fuel and water) Capacity – 3,968 lbs (1,800 kg)
Maximum Weight Capacity – 2,100 lbs (952 kg)
Swamped Capacity – 12
Persons Capacity –
Fuel Capacity – 200 gallons (757 L)
Engines Maximum Horsepower – 500 HP (372 kW)
Minimum Horsepower – 500 HP (372 kW)
Maximum Engine Weight – 1,400 lbs (635 kg)
Aboard the Boston Whaler 285 Conquest®, anything is possible. Comfort-minded features and amenities enable active day cruises, serious saltwater fishing runs and impromptu overnighting with equal aplomb. Design details throughout maximize helm visibility, walkaround space, seating comfort and more. When not entertaining a crowd in the generous cockpit, head offshore to chase the big fish. Choose from three hardtop options and let the 285 open your horizons. Whaler knows what you need in a confidence-inspiring boat.
Yes, I Want This Boston Whaler!
Call Now at 402-359-5926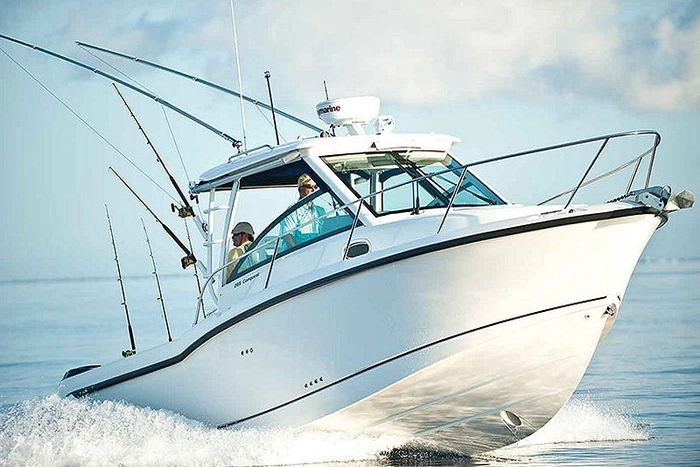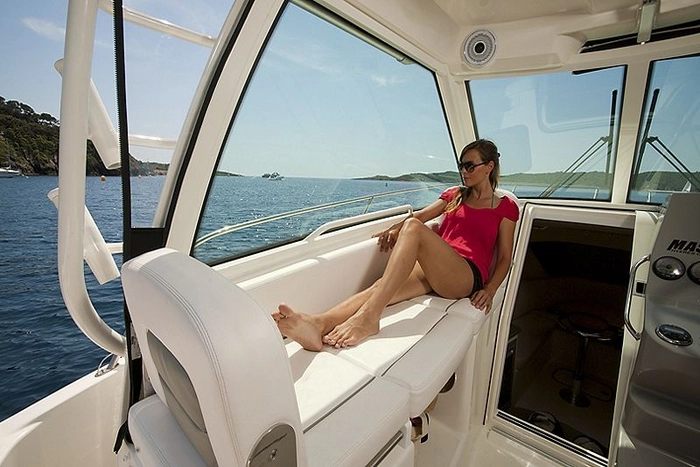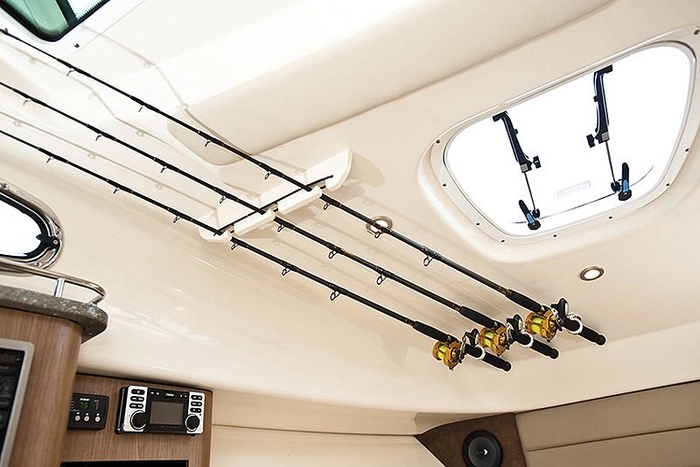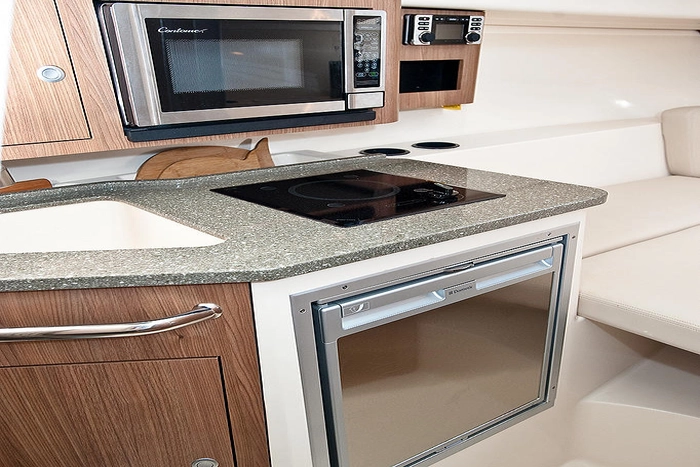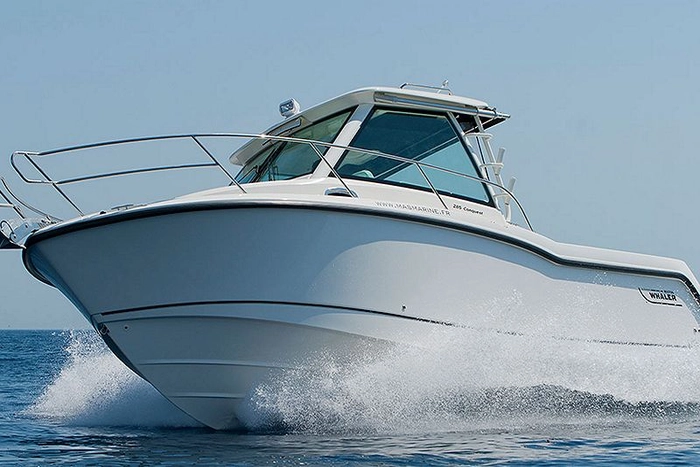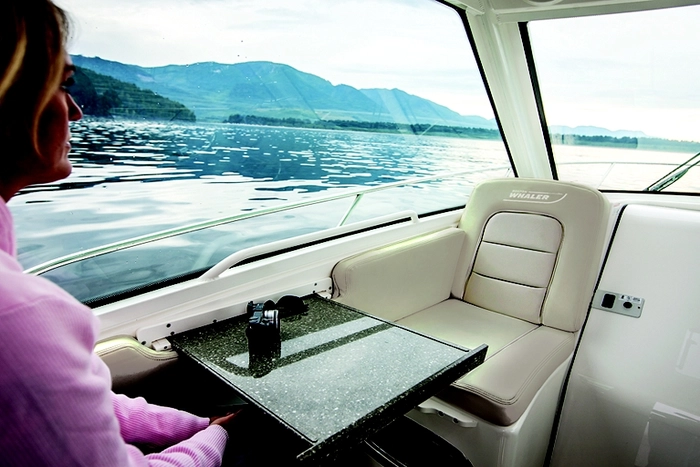 CONQUEST – LEGENDARY CRAFTSMANSHIP

CAPABLE & CONFIDENT

With its sleek deep-V hull, wide beam and state-of-the-art Mercury Verado power, the award-winning Boston Whaler Conquest tackles both saltwater fishing and sophisticated entertaining with ease. Ample fishing amenities and cutting-edge technology at the helm lead to confident, successful offshore excursions, no matter what Mother Nature throws your way. Premium, fully adjustable seats turn the cockpit into a fantastic alfresco dining space, and a well-appointed cabin with enclosed head, galley and entertainment zone offers comfortable overnighting.

GO BOLDLY

Cutting-edge technology ensures ultimate control at the helm
Hard-tops, sun shades and a pilothouse make Conquest the ultimate in all-weather protection
Aggressive Mercury Verado® outboard powers offshore runs
Dozens of fishing amenities and options let anglers pursue prey with confidence

CORE COMFORT

Gracious cabin allows for comfortable overnighting
Enclosed head lets you go farther, longer
Thoughtful amenities, like the optional Summer Kitchen, invite effortless entertaining
A stable ride and plush seating allow for relaxation during fishing action and lounging alike

Yes, you can cut a Boston Whaler in two and drive away in the half with the engine. But unsinkability means more than just the unmatched safety of Unibond™ hull construction. It means smart design, high-quality construction and forward-thinking technology. It means premium experiences and comfort year in and year out, whether you're fishing, cruising or both. It means having the Core Confidence to take on anything from the shallows to the roughest offshore water without worrying about a thing.

A lot goes into creating the Unsinkable Legend. From conceptualization to materials gathering to the hands-on build process, our team of designers, engineers and craftsmen use tremendous skill, innovative thinking, diligence and passion to guide their work. Get an inside look into how each beloved Whaler comes to life.

We're committed to creating boats that are purposefully engineered to be safe, functional and low-maintenance, while they deliver a lifetime of carefree pleasure.

Boston Whaler uses a detailed portfolio planning process to ensure we are developing the highest quality products for our customers. Our strict process creates a roadmap of goals and delivery dates, ensuring every new product is delivered on time and lives up to the Boston Whaler name.

Our robust quality control process starts the minute raw materials arrive to the factory, and continues until your Whaler is delivered. QC systems help manufacturing experts inspect each boat to ensure the final product is worthy of the trusted Boston Whaler name.