Choosing the Best Family Boat that pleases everyone's needs can be a difficult task. There are so many factors to consider to ensure comfort and safety, such as the size of your family, the type of activities you want to do on the water, and your budget.
The last thing you want is to buy a boat that your family won't enjoy, so going your research and taking the time to compare your options can help you make the best decision for you and your needs. To help you narrow down your choices, here are a few things to keep in mind:
1. Consider the Size of Your Family.
When considering the size of the boat you need, the size of your family is a major factor. If there are only a few people in your family, you may be able to get away with a smaller boat. However, if your family is larger, you will need to make sure the boat is big enough to hold everyone comfortably.
Additionally, you may need to consider the size of the motor if you also plan to use the boat for watersports or fishing. Make sure the motor is powerful enough to handle the size and weight of your family and any additional gear you may be bringing along.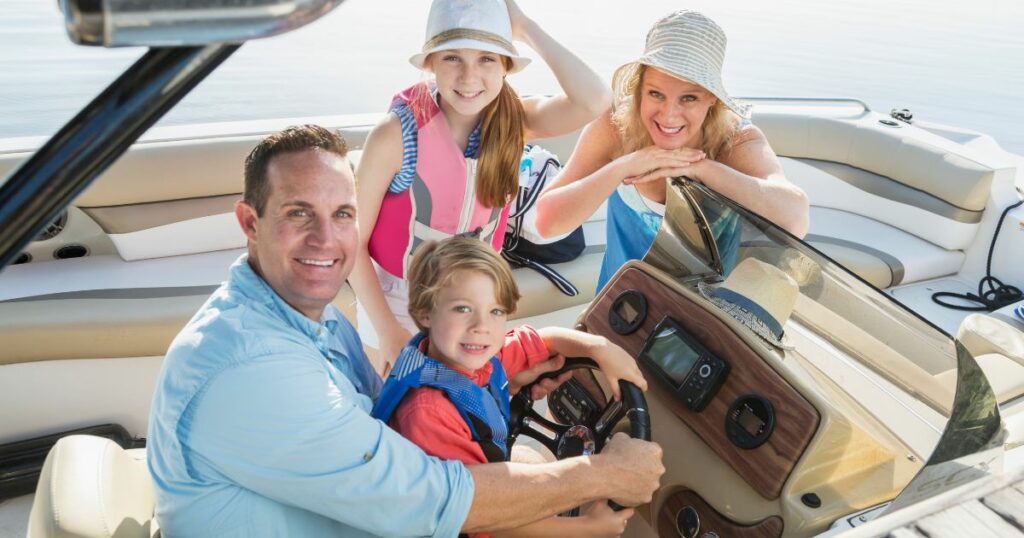 Boats for small Families: for 4 -6 People
2007 Nitro Z7
2007 Malibu LXi
2022 Malibu Wakesetter
2023 Boston Whaler 160 SS
Boats for Big Families: More than 6 People
South Bay 523 RS
2023 South Bay 525 RS
2023 South Bay 224 RS
2010 Sea Ray 185
2. Think About the Activities You Want to do on the Water.
Do you want to go fishing? Swimming? Water skiing?
Once you know what activities you want to do on the water, you can start to narrow down your choices. Consider factors such as cost, safety, and convenience. Make sure to choose a boat that checks all the boxes and that you feel comfortable within your budget.
For example, if you want to go water skiing, you will need a boat that is powerful enough to tow a skier, something more sport-like. If you plan on spending relaxin summers on the Omaha lake with your friends, you don't really need a powerful motor for sports.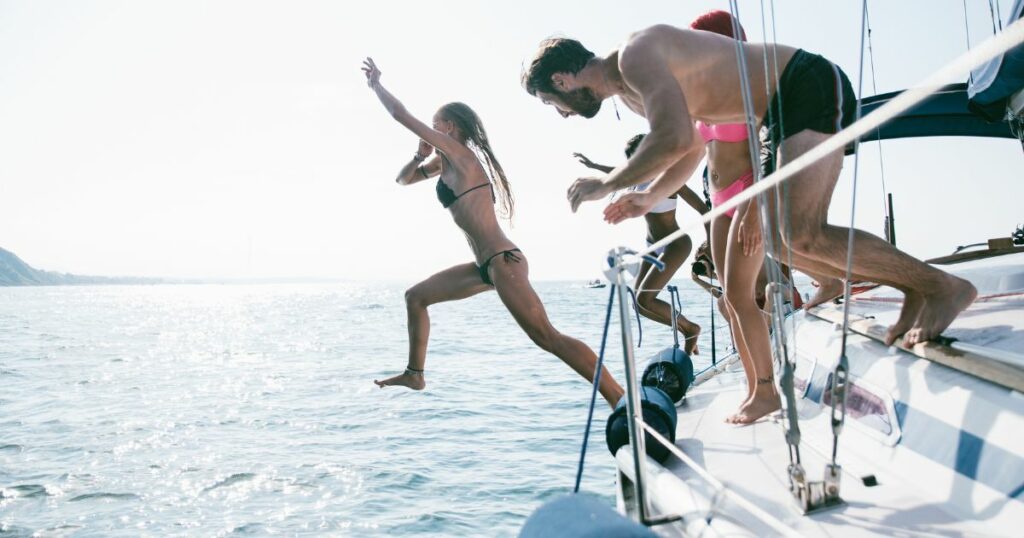 3. Set a Budget for Your Family Boat
Before you begin shopping for boats, it's important to set a budget for yourself so you don't overspend. This will help you narrow down your search to boats that fit within your price range.
Make sure to research and compare different boat models, features, and prices to ensure you are getting the best value for your money.
Additionally, you can look into Financing options to help you make the purchase; you don´t need to wait that long to get that new boat. Contact us to apply for financing.
Finally, don't forget to factor in maintenance and repair costs when setting your budget, especially if you are getting a used boat.
4. Do Your Research.
Once you have considered the factors above, you can start to do your research. Read online reviews, talk to other boat owners, and visit boat dealerships. The more research you do, the better equipped you will be to make a decision.
5. Visit a Boat Dealership.
Visiting a boat dealership is an invaluable part of the boat-buying process. It allows you to see the boats in person, inspect them up close, and gain a better understanding of their features, capabilities, and size.
Speaking with an expert at the dealership can also be incredibly helpful, as they can provide detailed answers to any questions you may have about the boat and the buying process. They can also suggest models and features that may fit your needs and lifestyle better.
Ultimately, visiting a boat dealership can help you make an informed decision and ensure that you are getting the right boat for you. If you live in Nebraska or the Midwest, don't hesitate to visit us and talk to our expert staff.
6. Take a Test Drive.
Once you have found a boat that you are interested in, it is a good idea to take it for a test drive. This will give you a chance to see how the boat handles and make sure it is the right fit for your family.
At Valley Marine, we offer Test Drive services to all of our clients; not sure about that boat yet? Don't worry! Schedule an appointment with us and try your new boat.
7. Don't Forget About the Extras.
It is easy to get carried away with the excitement of a new boat and forget some details, but if you should remember something is the extras, never forget about the extras.
You will need to purchase necessary extra items such as life jackets, a first-aid kit, and a boat cover. Additionally, you may want to look into other items, such as a fire extinguisher, navigation equipment, a marine radio, and a waterproof tarp to protect your boat from the elements.
If you plan on towing your boat regularly, you will also need to invest in a trailer or a towable dolly, since most boats don't include it, as well as a hitch and the necessary cables or straps to secure your boat.
Lastly, you will want to make sure you have the necessary tools and supplies to maintain and repair your boat, such as a toolkit, spare parts, and spare fuel for a quick fix.
8. Get the Right Family Boat Insurance.
Just like any other vehicle, your boat needs to be insured to be financially protected in the event of an accident or any damage.
Boat insurance can provide coverage for repairs or replacement of the boat itself if needed, as well as any, in the worst-case scenario, medical expenses for you or anyone else involved in an accident.
It can also provide coverage for damage caused by storms and other natural disasters, as well as for theft or vandalism. Furthermore, boat insurance can also provide protection for any liability claims that may arise from your boat. So get ahead of the game and find the right insurance for your boat.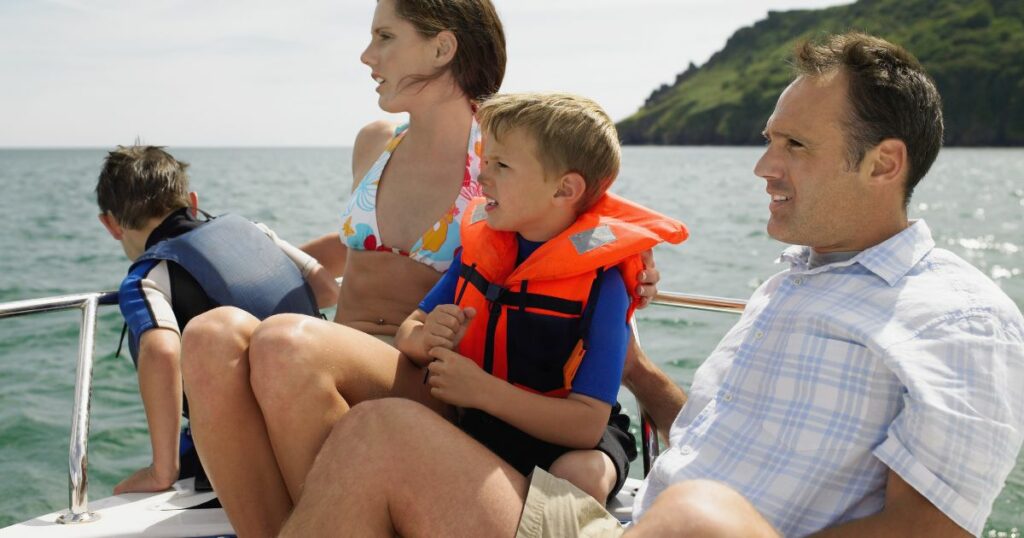 9. Take a Boating Safety Course.
For our clients, the most important thing is always their family, so taking a boating safety course is an excellent way to become familiar with the laws and regulations governing watercraft, as well as gain an understanding of how to properly operate your boat and keep your family safe and out of trouble.
Boating safety courses are provided by a wide variety of organizations, including the U.S. Coast Guard. These courses typically cover topics such as boat registration, navigation, equipment requirements, emergency response, basic boat handling, and water safety.
Participants are usually given the opportunity to practice on-water maneuvers in interactive activities such as simulations and hands-on practice. Upon completion of the course, you might receive a certificate, which may be used to obtain a boating license or insurance, even a discount!
10. Have Fun in Your New Family Boat!
Buying a boat is a big investment, but it is also a lot of fun. Boating is a great way to spend time with your family and friends. So get out there and enjoy the water!
If you are looking for a boat dealership in Omaha, Nebraska, be sure to visit Valley Marine. We have a wide selection of boats to choose from, and our knowledgeable staff can help you find the perfect boat for your needs. We also offer financing options to make it easy to get the boat you want.