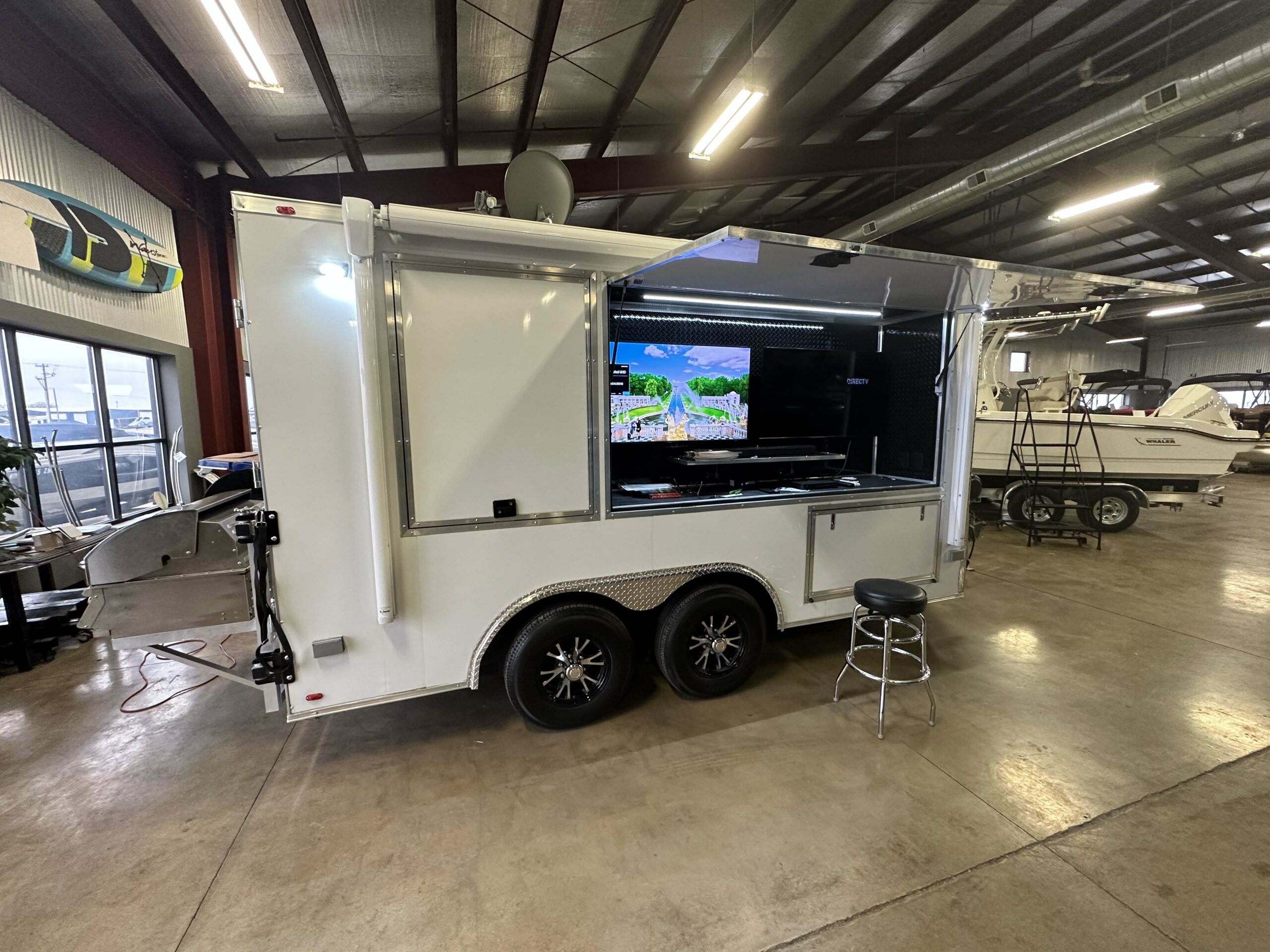 2023 Custom Tailgate Trailer by Ready-2-Roll Trailers
About This Trailer
16′ V Nose Tandem Axle Trailer
Electric Tongue Jack
Custom Retractable Awning
2 Ea 55″ Samsung Smart TVs
Bose Sound Bar
DirecTV
LED Light Package
Spare Tire
Stainless Steel RV Refrigerator
Microwave
Stainless Steel Sink
Hot Water Heater
Cooler Drawer
Bull Propane Grill
Traeger Wood Fired Drill
Honda EU 3000is Generator
Restroom with Flushing Toilet
Price: $55,000
Introducing the impressive 2023 Custom Tailgate Trailer by Ready-2-Roll Trailers! This trailer is packed with an array of fantastic features that make it an absolute must-have for any outdoor enthusiast.
Firstly, let's talk about the convenience and comfort this trailer offers. Equipped with a custom retractable awning, you can easily create shade and protect yourself from the elements. Inside, you'll find not one, but two 55″ Samsung Smart TVs, perfect for catching up on your favorite shows or enjoying movie nights on the go.
To enhance your audio experience, a high-quality Bose Sound Bar is also included, ensuring crystal-clear sound wherever you are.Entertainment options continue with DirecTV, allowing you to access a wide range of channels and entertainment content.
The LED light package illuminates the trailer, providing a vibrant and inviting atmosphere. Plus, you'll have peace of mind with the spare tire, ensuring you're prepared for any unexpected situations. When it comes to food and beverages, this trailer has you covered. The stainless steel RV refrigerator keeps your perishables fresh and chilled, while the microwave allows for quick and easy meal preparation.
Wash your dishes hassle-free in the stainless steel sink, and enjoy hot water for your needs thanks to the hot water heater. Additionally, the cooler drawer provides a convenient storage solution for your drinks and snacks.For those who love outdoor cooking, you'll be thrilled to find a bull propane grill included, allowing you to savor mouthwatering grilled meals wherever you go. And if you prefer wood-fired flavors, the Traeger Wood Fired Grill is an added bonus.Powering all your electrical needs is the reliable Honda EU 3000is Generator.
With this generator, you can enjoy electricity no matter where your adventures take you. Finally, a restroom with a flushing toilet ensures that you have the utmost comfort and convenience during your travels.Overall, this 16′ V Nose Tandem Axle Trailer with Electric Tongue Jack is the epitome of luxury and functionality.
Whether you're embarking on a road trip, camping adventure, or tailgating event, this trailer provides all the amenities and conveniences you could ever desire. Get ready to experience the ultimate mobile lifestyle!
Yes, I Want This 2023 Custom Tailgate Trailer!
Call Now – 402-359-5926
Email – andyw@valleymarine.net (or) sethm@valleymarine.net